Bay Brown Welsh Section B Stallion born 1994













Downland Romance







Downland Mohawk












Downland Water Gypsy
Sire:

Downland Warrior (imp)













Downland Chevalier







Downland Moonwalk

















Mere Fire Myth












Weston Olympian (imp)







Weston Prince Regent












Weston Moll Flanders
Dam:

Weston Antonia (imp)












Rosedale Mohican







Abercrychan Exclamation












Abercrychan Cordelia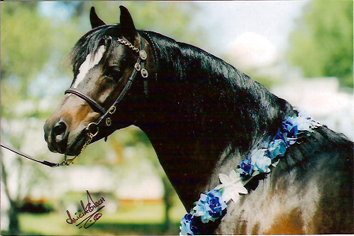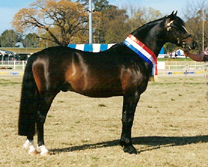 Aramis was purchased in 1999 when I was hunting for a stallion to put over the Section B mares. A couple of my mares had already bred well to Downland Warrior (imp) and Aramis had the added bonus of being out of the beautiful Weston Antonia (imp).

Aramis bred as well for me as I had hoped producing in his first season for me three out of three fillies, Woranora Crystal, Woranora Pirouette and Woranora Serena.

He was lightly shown for a season listing among his wins Supreme Champion Section B NSW All Welsh Show and Supreme Welsh Overall National Stud Pony Show.

Aramis was then sold to Victoria where he has continued his successful career, not only in hand but also under saddle.

Semen was collected before Aramis was sold and is available for sale.