Buckskin Welsh Section B Mare 1981-2002













Chirk Crogan







Weston Gigli (imp)












Revel Glimpse
Sire:

Weston Chippendale (imp)













Gorsty Firefly







Weston Choice (imp)

















Weston Princess Mandy












Revel Solo







Fayre Curio (imp)












Fayre Keepsake
Dam:

Bereen Pandora












Fayre Curio (imp)







Bereen Poppy












Bereen Pelagonium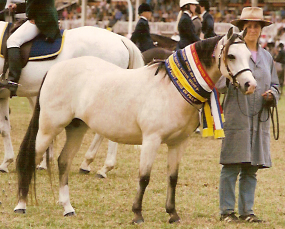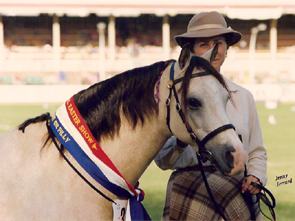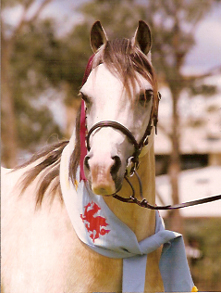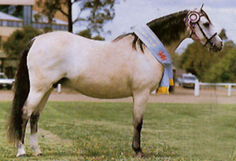 Panache (aka Kim) was a fantastic pony for me, not only winning consistently at the highest level but producing foals who excelled not only at halter but under saddle in open company at Royal and Horse of the Year Show level.

Kim was a slow maturer who was shown with a bit of success as a young filly and then bred from and sold. When I bought her she was in poor condition in a paddock with a large foal at foot and back in foal.

A little mare (only 12.1hh), she was a fabulous mover who enjoyed every minute of being a show pony.

Kims' wins included Supreme Champion Section B NSW All Welsh Show, Supreme National Stud Pony Show, Champion Sydney Royal, Reserve Champion Brisbane & Canberra Royals. Her foals have enjoyed great success both in hand and under saddle and have bred on exceptionally well, Warrior founding his own dynasty of Horse of the Year winners prior to being gelded and winning Royal Championships and Horse of The Year awards himself.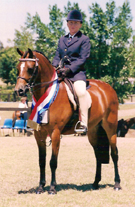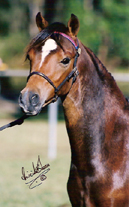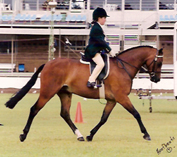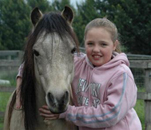 Progeny bred by Woranora Stud

5/10/90

Woranora Flair

       Bay filly by Merlin Valerian (imp)
1/9/91

  Woranora Jacob               Buckskin colt by Coed Coch Gwyndaf (imp)
26/11/92       Woranora Jazz

        Buckskin filly by Robali Jasper
11/11/93       Woranora Warrior             Bay colt by Downland Warrior (imp)

16/10/94       Woranora Promenade     Buckskin colt by Sarnau Saunter (imp)

4/10/95         Woranora Matador            Chestnut colt by Imperial Jerome

29/10/96       Woranora Warlock            Buckskin colt by Downland Warrior (imp) 25/10/98       Woranora Patriot               Grey colt by Weston Olympian (imp)

14/10/99       Woranora Panache          Bay colt by Imperial Journal

29/10/01       Woranora Paladin             Bay colt by Trentlyn Aramis

3/11/02         Woranora Parade  

Chestnut colt by Trentlyn Aramis
Woranora Warrior

photo Hoofbeats

Woranora Warrior above & below

as a yearling colt

Woranora Panache

photo Alicia Birch

Woranora Flair below

photo The Land