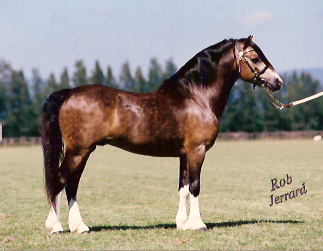 Twyford Puzzle







Twyford Gurkha












Twyford Gala
Sire:

Twyford Santa (imp)













Twyford Grenadier







Twyford Saffron


















Belvoir Sweet Pea












Maufant Spark







Cottesmore Playboy












Cilrhedyn Pepita
Dam:

Menai Silver Spray












Revel Springlight







Hartmoor Silver Rose












Teme Valley Silver Rose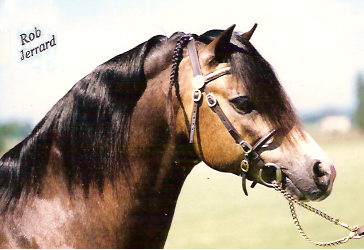 Buckskin Section A Stallion 1976- Jan 1998

Menai Silver Sand (aka Spunky) was imported as a young colt by Annie & Ev Coxon. He was only lightly used at stud in his youth but bred exceptionally well producing All Welsh Champions for Jan Brennan's Mariana Lodge Stud. He was only shown a handful of times as a stallion but his wins included Championships at both Melbourne and Sydney Royals.

Spunky was an outstanding sire whose stock were extremely consistent. His progeny have continued to dominate many years after his death, in fact Champion & Reserve Champion Mare at 2004 NSW All Welsh Show were both by him.

As an older stallion Spunky was also used to breed Arabian Ponies and the cross to Arabian mares was extremely successful resulting in the production of numerous Australian Champion & East Coast Champion progeny.

I will be eternally grateful to Annie Coxon for allowing me to purchase Spunky, he was an enormous influence on my Stud as can be seen by the amount of descendants retained. The true worth of a sire is reflected in future generations and the progeny of Menai Silver Sand have proved to be exceptional sires and dams.