Grey (born Palomino) Welsh Section A Mare born 1988


Carina was lightly shown as a filly for numerous Championships. She has been a successful broodmare with her three foals that have been shown (W Tulip. W Cabaret, W Cherokee & W Chintz) all being championship winners.
Tulip
was been particularly successful in both NSW & Victoria winning numerous Championships at All Welsh Shows.
Cherokee has been a superstar winning Best Welsh Mountain Gelding at Sydney Royal and Reserve Champion Ridden Sydney Royal twice, numerous Championships under saddle at All Welsh Shows and Runner-Up Supreme Ridden Welsh 2010 NSW All Welsh

Progeny

25/10/93

Woranora Carmen

  Grey filly by Coed Coch Gwyndaf (imp)
10/10/98          Woranora Cleopatra         Grey filly by Twyford Negus (imp)

11/10/99         
Woranora Tulip
                 Grey filly by Weston Platinum
26/10/01          Woranora Cabaret            Chestnut filly by Imperial Mendel

4/12/03            Woranora Cherokee         Grey gelding by Woranora Mosaic

5/11/05            Woranora Chintz                Black filly by Woranora Mosaic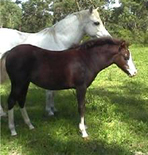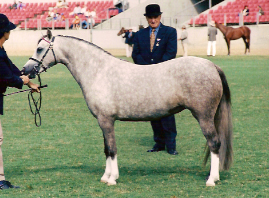 Twyford Grenadier







Twyford Gamecock












Wee Georgette
Sire:

Twyford Marchog (imp)













Twyford Grenadier







Twyford Minerva


















Twyford Myfanwy












Coed Coch Shon







Coed Coch Norman (imp)












Coed Coch Pibwydd












Twyford Sprig







Penllyn Carina (imp)












Penllyn Cinnamon