Grey (born Palomino) Welsh Section A Mare 1978-1997

                                                                                               photo Rob Jerrard      














Coed Coch Salsbri







Coed Coch Shon












Coed Coch Siwen
Sire:

Coed Coch Norman (imp)













Llanerch Titmouse







Coed Coch Pibwydd


















Coed Coch Pathew












Coed Coch Asa







Twyford Sprig












Revel Springsong
Dam:

Penllyn Carina (imp)












Gredington Serydd







Penllyn Cinnamon












Cinderella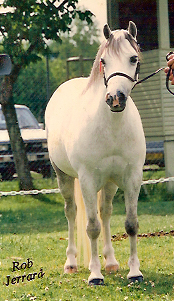 I first saw Tulip in January 1986 when looking for something else. The moment I saw her in the brood mare paddock I forgot about the filly I had been planning to buy, I was besotted but Tulip was not for sale. A year later the situation had changed and Tulip came home. She was a truly beautiful mare with the lovliest eyes and sweetest nature. A very determined pony, she never argued but invariably ended up getting her own way. Tulip had been very successfully shown as a filly with major wins at Melbourne Royal and the Victorian All Welsh. I only showed her lightly but her wins included Supreme In Hand Exhibit NSW Feature Show. Her foals were only lightly shown with success and W Carina and W Tempo have bred on extremely well.

Woranora Tiki was shown very successfully for wins which included Best Two Year Old Exhibit Brisbane Royal but she unfortunately died at an early age after being sold to Queensland.

Progeny bred by Woranora Stud

9/11/88

Woranora Carina

Grey filly by Twyford Marchog (imp)
23/10/90        Woranora Tempo         Grey colt by Cherrytree Mandarin


22/12/91        Woranora Tiki

     Chestnut filly by Coed Coch Gwyndaf (imp)
22/11/93        Woranora Quest           Black Buckskin colt by Coed Coch Gwyndaf (imp)