Grey (born Buckskin) Welsh Section B Mare born 1991














Weston Olympian (imp)







Kirreway Play-Fair












Weston Carousel (imp)
Sire:

Weston Cotton Wood












Gorsty Firefly







Weston Choice (imp)


















Weston Princess Mandy












Weston Neptune







Weston Olympian (imp)












Weston Choice (imp)
Dam:

Weston Marie-Louise












Weston Chilo (imp)







Weston Mary Ann (imp)












Weston Romany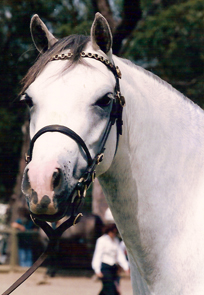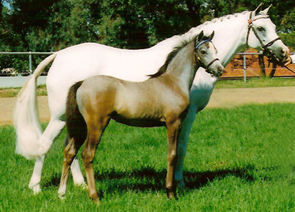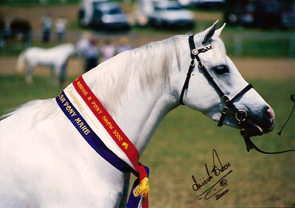 I first saw Christie as a young foal on her dam at the Victorian Welsh Feature Show and instantly fell in love with her despite the fact that she was not what I was looking to buy at the time. She was not for sale however and it was another four months before her breeder, Greg Higgins, finally relented.

Christie was a superstar show pony from the first. I took her to the NSW All Welsh Show as a yearling paranoid that she would not look well enough to satisfy Greg that he had not made a mistake in selling her. I did not need to worry, she was awarded Supreme Champion Section B & Supreme Welsh of the Show.

Christie continued her winning ways with her wins including Best 2 year old Brisbane Royal, Supreme National Stud Pony Show, Supreme Champion Welsh Section B NSW All Welsh Show (as a brood mare) and finally Supreme Champion Section B Sydney Royal after which she was retired.

Christie has also proved to be an outstanding brood mare with all her foals shown to date being Royal Champions.

Progeny

18/12/96

Woranora Christina

Buckskin filly by Downland Wwarrior (imp)
28/10/98

Woranora Celebrity

Black Buckskin filly by Sianwood Silversmith (imp)
19/11/99

Woranora Cascade

Grey colt by Courtland Boy Blue (imp)
7/12/00

Woranora Crystal

   Grey filly by Trentlyn Aramis
21/12/03

Woranora Consort

  Bay colt by Imperial Rembrandt
22/12/05

Woranora Christiana
    Grey filly by Imperial Falcon