Coed Coch Madog







Coed Coch Salsbri












Coed Coch Siaradus
Sire:

Coed Coch Saled













Coed Coch Glyndwr







Coed Coch Sywn


















Coed Coch Siwan












Coed Coch Seryddwr







Coed Coch Madog












Coed Coch Mefusen
Dam:

Coed Coch Glenda












Coed Coch Proffwyd (imp)







Coed Coch Sibrwd












Coed Coch Sensigl
Bay Welsh Section A Stallion born 1977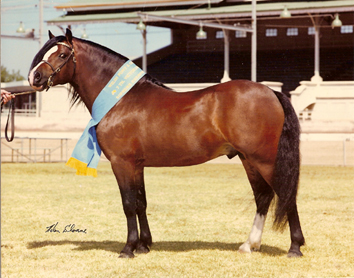 I first saw Gwyndaf at the Coed Coch Parade in October 1983 and was totally captivated by his exceptional movement and presence. He was imported as a young colt by Annie & Ev Coxon and had a phenomenal show career listing among his wins Grand Champion Welsh In Hand Victorian All Welsh Show and Most Successful Exhibit and Supreme National Stud Pony Show as well as winning the Sire's Rating Competition.

Gwyndaf had already proved to be a wonderful sire both for Coxon's Stanton Park Stud and Jan Brennan's Mariana Lodge Stud producing foals such as Mariana Lodge Magnolia, Stanton Park Sideshow & Stanton Park Melody.

Annie Coxon then kindly allowed me to borrow Gwyndaf and he spent a few summers in NSW with me producing foals such as
Woranora Tanith
,
Woranora Charisma
& Woranora Charm. My Gwyndaf mares are very treasured not only for their brilliant movement and their ability to reproduce but also for their particularly loving temperaments.