Cremello Welsh Section A Colt born 2003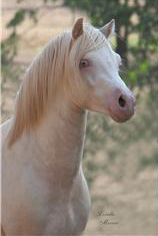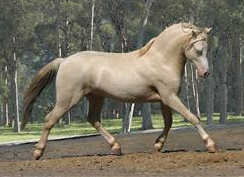 Tempest (aka Norman) was lightly shown as a yearling winning numerous Championships in Welsh classes, including the National Stud Pony Show. He is the third foal of the consistently successful mating between Woranora Tiffany and her 1/2 brother Woranora Nimbus, the others being Woranora Tabitha (owned by Kenda Park Stud) and the exceptional gelding Woranora Tristan.

Tempest is proving to be a dominant sire with his first two foal crops being exceptionally pleasing.

Unfortunately, as most of my mares are too closely related to breed to Tempest the hard decision was made to allow him to have a new home where his full potential would be realised. I wish Sherrie Hilliand and Wade Edwards of
Sarahn Stud
all the best with Tempest.
As I have retained services to Tempest and have a large supply of frozen semen available for my use or sale, I look forward to breeding many more Tempest foals in the future with three mares due to foal to him in 2007.













Twyford Santa












Menai Silver Spray
Sire:

Woranora Nimbus













Waxwing Herod












Imperial Nerin












Twyford Santa












Menai Silver Spray
Dam:

Woranora Tiffany












Coed Coch Rhadol (imp)